Give Hope & Healing to Vulnerable Children
Our major focus is to provide hope, healing, and a brighter future for the vulnerable in our society. There are millions of children and young people around the world without the protection of parental care, making children one of the most vulnerable groups.
There are millions of children worldwide who are forced into bondage, married as child brides, abused at home, trafficked for the sex trade, forced labor, and other illegal purposes.
At ImpactHope, we believe in a holistic approach to address child development.  We implement a careful blend of physical, social, economic and spiritual care to help them grow into healthy and responsible individuals, who will one day impact their future generations. This includes a shelter over their heads, a safe space to learn and grow in, a family around them, and education to help them develop sustainable skills and habits.
ImpactHope is committed to bringing hope, healing, and a brighter future to children. We want to create safe places for them to heal, learn, and grow. We want to protect and defend them from those who seek to take advantage of their innocence.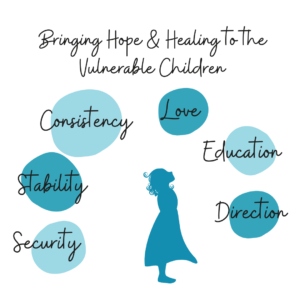 ImpactHope supports several projects in countries around the world that care for vulnerable children. These projects focus on childcare, shelter, education, health, nutrition and spiritual mentoring. We invite you to join us to keep children safe, to protect the most vulnerable and help the exploited heal, and to bring them the good news of Jesus. Your gift will help strengthen communities to protect children and offer them healing and restoration.