Most Recent Updates
From Oaxaca, Mexico
August, 2022
HOLDING EVERY MAMA'S HANDS WITH COMPASSION
Historically, the purpose of prenatal education classes was to prepare childbearing women for birth and to teach them pain management techniques during labour. The scope of prenatal education has expanded over the years. It now includes preparation for pregnancy, labour and birth, care of the newborn, and adjustment to family life with a baby.
The pandemic forced classes to go online, sadly decreasing personal interaction with clients. Everyone was looking forward to the return of in-person classes again, which were finally restarted in January this year!
One of this year's goals was to resume face-to-face prenatal classes in compliance with the health standards established for this service. Prenatal attention, exercise, nutrition, and relevant information help expecting couples make informed decisions regarding the birth and care of the baby.
Read more in our latest blog post!
World Doula Week (March 22 – 28)
On the occasion of World Doula Week, we want to thank and recognize the selfless work of the doulas and staff at Casa Compasiva. Casa Compasiva has trained women with a single purpose – to serve with love and compassion through midwifery and ministry.
Casa Compasiva works to provide a safe, natural birth environment that is respectful of the Oaxacan people while utilizing essential midwifery and medical knowledge to provide quality care and to save lives. By supporting Casa, you impact hundreds of expecting and new mothers, enabling them to bring their babes into this world in a peaceful and respectful manner.
March, 2022
Casa Compasiva celeberated 11 years of service and ministry to dozens of new parents and their babies!

Casa Compasiva has not only been a blessing to the childbearing women, but it has also blessed the lives of the team members: providing financial stability for them and their families.

Read all the updates for the last quarter from Casa Compasiva here!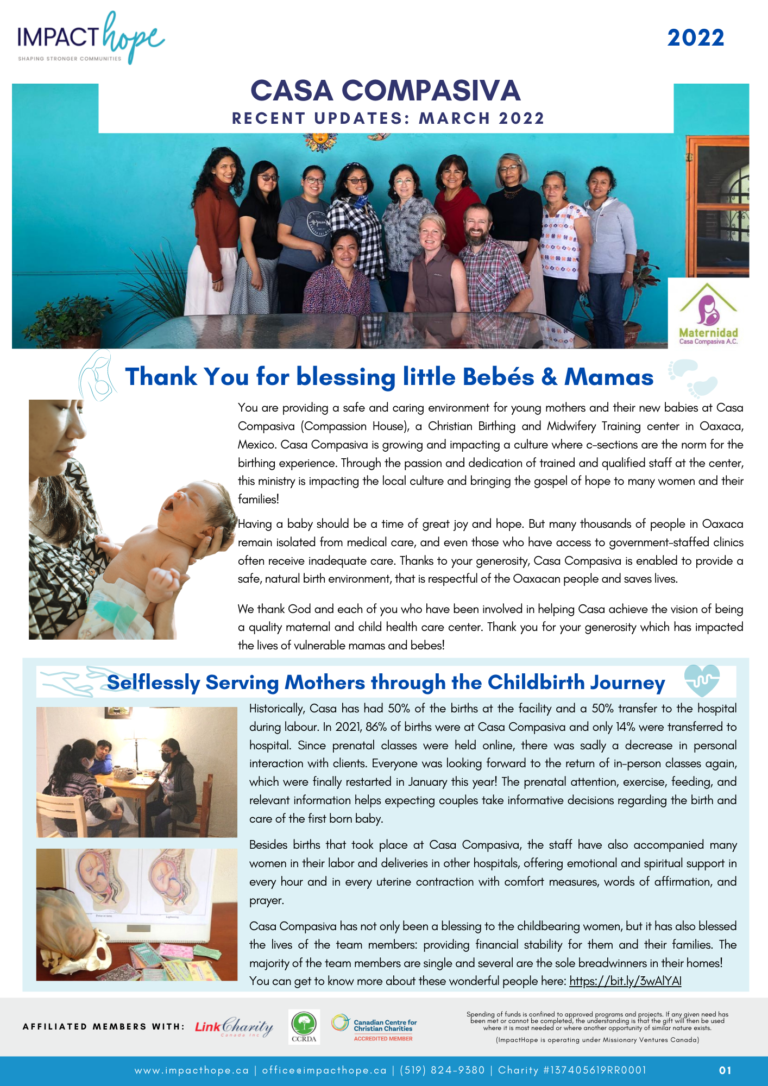 January, 2022
Dan and Adria Fuller are the new directors at Casa Compasiva.
In 2021, there were 434 prenatal patients, 56 nutrition consultations, 60 postpartum appointments,
20 well-child monitoring appointments (starting Jun '21), 12 general appointments, 20 births (inhouse), and 3 births transferred.
Historically, Casa has had 50% of the births at the facility and a 50% transfer to the hospital duringlabour. This year, 86% of births were at Casa Compasiva and only 14% were transferred to hospital.
Since prenatal classes were held online this year, there was sadly a decrease in personal interaction with clients. Everyone is looking forward to the return of partial in-person classes again.
October 18, 2021
What Is 'Healthcare Aide Day'?
It is a day devoted to healthcare workers and assistants in appreciation for their relentless help and selfless service to the most vulnerable. It is through their unwavering compassionate care, that the physical, emotional, and social needs of the community are met.
So far, Casa Compasiva has supported 161 women in the process of giving birth as precious little boys and girls were passed into the loving care of their mothers. Besides births that took place at Casa Compasiva, they have also accompanied 104 women in their labor and deliveries in other hospitals, offering emotional and spiritual support in every hour and in every uterine contraction with comfort measures, words of affirmation, and prayer.
Casa Compasiva has not only been a blessing to the childbearing women, but it has also blessed the lives of the team members: providing financial stability for them and their families.  The majority of the team members are single and several are the sole breadwinners in their homes.  You can get to know more about these wonderful people here at http://birthcenter.blogspot.com/p/here-is-our-dear-friend-and-doctora-her.html.
July 19, 2021
"The Canadian matching gift of $4,000 was met in full, and the American matching gift of $2,000 as well!! 
Together this has more than amply supplied for the completion of the Laundry Upgrade project, and we are thrilled! Thank you so much to the generous donors who supplied the matching gifts, and thank you to all of you givers who saw the need and stepped up to the plate! 
Since more money came in than we had expected, we would like to dedicate any extra money raised to fund low-income women who maybe can't afford prenatal care or a birth at Casa. In the past we have called this our "Birth Scholarship Fund" and for lack of a better term, I will refer to it as such. If you are a contributor to the Laundry/Security upgrade project and would prefer for any excess to be applied in some area OTHER than the Birth Scholarship Fund, please contact me immediately. We want to be sure to honour your wishes on how to appropriate your gift. 
So the first phase is complete, and now we will begin to focus on the Security aspect of the two-pronged project. We will be sure to provide an update when the next steps are done.
Thank you, and may God be praised!"
April 14, 2021
This year, Casa Compasiva celebrated its 10th year of serving families in their surrounding communities with prenatal, child birth, and postpartum care and education. With the regulations to prevent the spread of COVID-19 in Mexico, the demand for midwives and birthing centers has risen. Yet, as these numbers increase, so do the challenges and needs of Casa Compasiva.
Emergency Funds Needed at Casa Compasiva
At the beginning of April, MVC launched an emergency campaign to update cleaning & security facilities. With a generous donner's offer to match up to $4,000 CAD, we can proudly announce that we have surpassed our goal and raised $4602. With the matching gift, that's a grand total of $8,602 CAD! Thank You! 
However, Casa Compasiva continues to have great financial needs to meet their operational costs; wages, equipment, training, gospel outreach, and a financial aid program for families unable to afford the cost of their care. Through the connection of Sarah Therese and her YouTube Platform, we have made the connection with a wonderful American jewelry company, Wind Blown Jewelry, willing to raise more funds to support the needs of Casa Compasiva.