About The Location & History
Shelter of Hope, Kenya is a Christian non-profit organization registered under the societies act. Shelter of Hope (SOH) has the call and responsibility of reaching out to the children and youth who are orphans and vulnerable by providing spiritual nourishment, education, and income-generating activities to enable them to be independent. Through the course of our work, we have initiated programs for women through empowerment strategies and material support to the elderly widows.
Shelter of Hope addresses not only the issue of education but also food, water, and health. Many lives are being impacted and changed through education, food, and infrastructure support.
Individuals are needed to assist in the construction of the second floor of the school. Business people are needed to assist in creatively developing businesses and training individuals so that VMK could reach a greater measure of sustainability. Medical teams are needed to provide health care for those living in poverty.
Child Sponsorship Program

Feeding Programs

Education Program (2 Community Education Centres)

Counseling and Spiritual Care Program in partnership with the church

Youth programs

Health Care Program (Running a Communal health facility)

Agricultural Program

Income-generating activities for community members

Emergency relief programs
Education Sponsorship Program
Through student sponsorship, food support, and infrastructure support, many lives are being impacted and changed. Donations towards SOH Education are also used to cover dormitory costs for children whose parents have passed away.
Through individual student sponsorship, you can assist a student with long-term resources and equip them towards becoming independent.
Who Are We Partnering With?
Ishmael and Molline began ministering in a slum in Nairobi by tutoring, educating and feeding a few children. Their early efforts produced birthed Shelter of Hope. In the same slum they first started ministering, there is now a school with approximately 150 students (Kindergarten to grade 8). Their efforts expanded to the Nyanza province, where Ishmael was born and raised. Together, they saw a vision to address issues in the community. Following the inception of the school, they started the Shelter of Hope Academy and other programs (a health clinic, agriculture, and women empowerment – to name a few).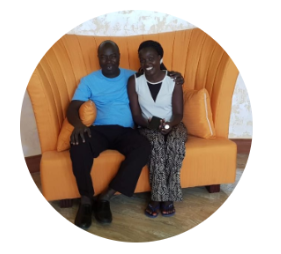 The government recognizes Shelter of Hope as a top school for success in the Annual Government Exams and as an official examination center. In 2021, The grade 8 class ranked 2nd out of 210 schools in Rangwe County, where SOH academy is situated. Despite working so hard to excel, these children desperately need sponsors to help them continue their education.
In 2009, Ishmael met individuals from Vision Ministries Canada (VMC) and in 2011, they created Vision Ministries Kenya, a network of over 40 churches focusing on church planting, pastoral training, and leadership development.