Most Recent Updates
From Malawi
October, 2022
"Thank You for giving my children and me a shot at a better future.." – Esther, member of the agriculture project in Malawi.

Poverty in Malawi is driven by low productivity in the agriculture sector, limited opportunities in non-farm activities, and volatile economic growth.

With our partners, we are pioneering an Empowerment Project which supports widows, orphans, and women in poverty. This video is of an agriculture project for sustainability for vulnerable widows and orphans in Blantyre, Malawi.
Thanks to your support, these vulnerable women and children have the opportunity to create a better future for themselves.
September, 2022
My name is Ellena, and I am a 16-year-old orphan. I was forced into marriage by my uncle last year. I have been in an unwanted marriage for nearly a year. Can you imagine? A 15-year-old girl with an elderly man? How could I be happy? I thought my life was over..
Education for Girls and Poor Orphans Project (EGPOP) is a social-cultural response toward creating educational opportunities for the poorest girls and orphans in secondary schools with funding from our generous donors. Through an initiative of EGPOP, our partner in Malawi has helped Ellena's uncle understand the need for her to get out of the marriage and return to school.
Ellena is now one of the orphaned girls rescued from a forced and early marriage, and she has now returned to school in grade 1. Your donations have allowed us to support her with learning materials, school fees, and essential body needs this term. We have currently identified 13 more girls and orphans ready to return to school next term if such support can be found.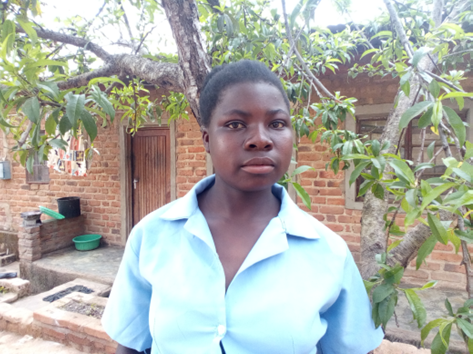 For just 50 USD, you can support one girl child with all the necessary needs for school, body care and fees for one term. If you would like to change a vulnerable child's life, consider giving a gift or donating monthly here.
August, 2022
The Empowerment Project supports 110 widows and women in poverty. Through a community-based women empowerment program, meat goats are provided to widows. The Mbuzi (Goat) project empowers families through women to alleviate poverty and enable self-sufficiency.
A goat is an asset to a vulnerable household; it breeds quickly. Offspring can be sold to help families cope or kept to produce manure, which will improve subsequent harvests. Ideally, within a year, each family can choose to sell goats to improve their homes or pay for school fees and use manure to increase their maize and vegetable harvests to produce a surplus to sell. Thanks to our generous sponsors,
Pastor Moses was able to start the program with a small group of widows.