Most Recent Updates
From Nairobi & Kagan, Kenya
Your partnership has given hope to many children in Kisumu & Nandi County, Nairobi, and Homa Bay County in Kenya.
Over the last few months, SOH has impacted the lives of many through community relief programs, and a women's conference and helped many children realize their potential.
We are praying for people to participate in our new student sponsorship programs! 
Read all the latest updates in our report!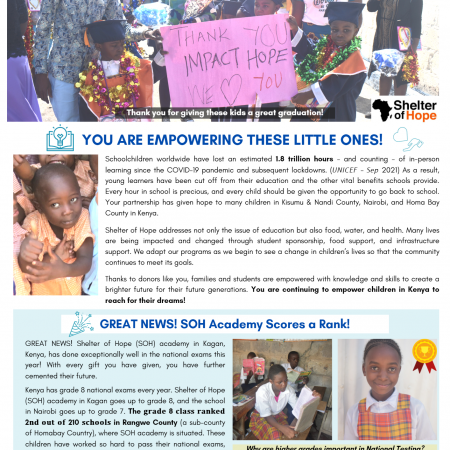 GREAT NEWS! Kenya has grade 8 national exams every year. The SOH academy in Kagan goes up to grade 8 and the school in Nairobi goes up to grade 6. The grade 8 class ranked 2nd out of 210 schools in Rangwe County (which is a sub-county of Homabay Country) where SOH academy is situated. 
After working so hard to pass their national exams, these children are in desperate need of sponsors to ensure that they continue their education.
These children have so much potential and their futures are dependent on the generosity of our donors!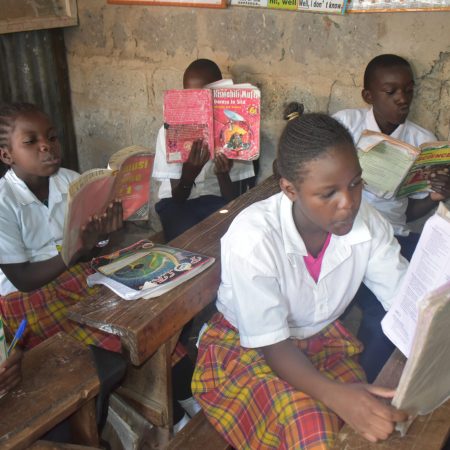 We have partnered with Shelter of Hope to identify primary school students who will benefit from long-term resources to cover medical needs, daily meals at school, and tuition costs.
Each child will be matched with a sponsor. This one-to-one connection is a powerful way for donors to demonstrate God's love as they pray for the child, write letters and emails, and exchange photos to encourage them.
Over time, donors will see the impact of their donation on the child, their family, and their entire community. Donors will get to celebrate milestones with the children and will ultimately change the course of their lives!
Watch the video campaign here!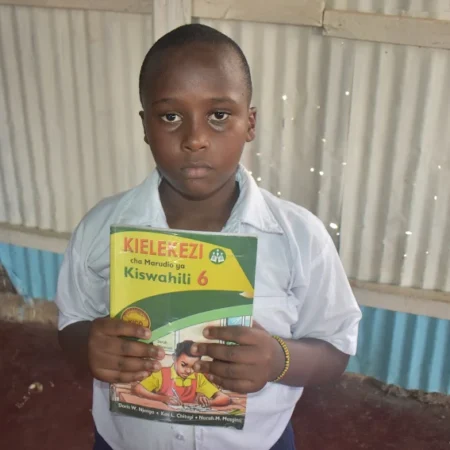 Through ImpactHope, breakfast, lunch and clean drinking water are provided for staff and students. 180 students and 17 staff are provided with daily nutritious meals, which allows them to focus on their work.
The use of chalkboards in our classrooms enables
collaborative learning. The students in grade 3 had a wall painted in black, which has made learning more effective.
A tap has been repaired to enable children to
wash their hands efficiently.
Watch a video of students learnings the names of the parts of the body here!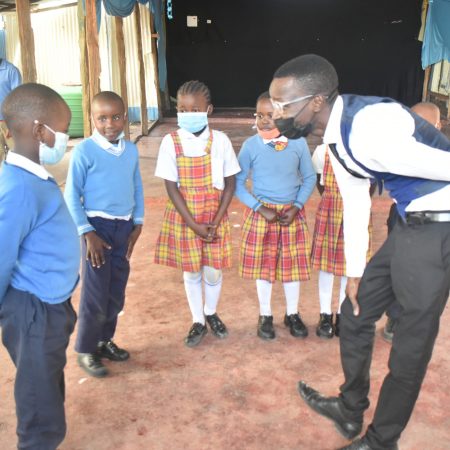 We were able to provide nutritious food to the most
vulnerable students at SOH.
The resumption of learning activities in both Shelter
of Hope Academy locations (Nairobi & Kagan).
Proper safety regulations and equipment needed for
all of the staff and students of both locations were
provided. Classes were able to resume safely
because of this!
Graduation ceremonies were able to take place in
both locations. Families were able to attend safely!
We were able to safely hold Youth events.
An opportunity for a free medical camp in Kagan for
students was available this past summer.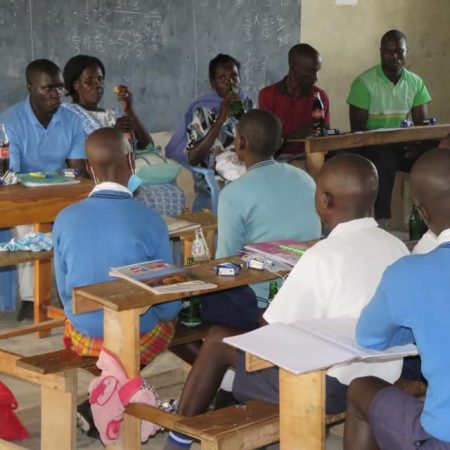 Funds were used to pay Staff salaries, provide meals for students and to service other overhead costs such as repair, electricity, water and stationary. 
The use of masks is a new norm. It is however very challenging norm for small children especially those in kindergarten. Subsequently, when teachers communicate through their masks in class, the content is unclear to some students.
Regular washing of hands has improved the level of hygiene for both the Children and teachers.
Our school in Kagan runs a sustainable agricultural project which supplements a feeding program for students who are in need of food.